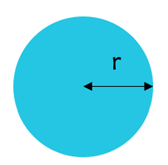 Area of a Circle
The area of a circle is given by pi multiplied by the radius,squared. The radius is half of the diameter of the circle.
Diameter of a Circle
The length from one end of the circle to the other with a straight line.
Circumference
The circumference of a circle can be thought of as the "perimeter of a circle". It is calculated by multiplying 2*pi by the radius of the circle.